People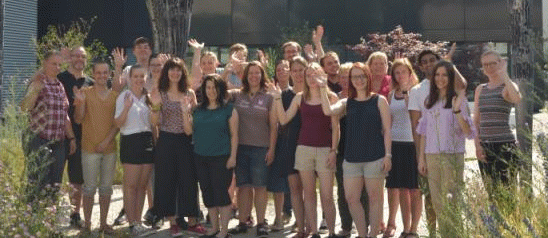 Heilmann group in June 2019
Former Postdocs and PhD-students
Dr. Larissa Launhardt
PhD 2022
Master 2017
Now: Scientist, Tron, Mainz
Dr. Daniel Köhler
former research group Baginsky

Now: IDT Biologika, Dessau-Roßlau, Germany

Dr. Wilhelm Menzel
PhD 2019
Master 2013

Now: IDT Biologika, Dessau-Roßlau, Germany

Dr. Praveen Krishnamoorthy
Postdoc 2014-2019

Now: Staff-Scientist (St. Louis, USA)

Dr. Feng Lin
PhD 2018

Now: Assistant Professor (Nanjing, China)

Dr. Katharina Gerth
PhD 2018
Master 2012

Now: Postdoc (Perth, Australia)

Dr. Tobias Heinz
PhD 2015

Now: Icon Genetics, Halle, Germany

Dr. Franziska Hempel
PhD 2015
Diploma 2009

Now: IDT Biologika, Dessau-Roßlau, Germany

Dr. Ralitza Danova-Alt
Postdoc 2011-2014

Now: Regulatory-Affairs Manager

Dr. Jennifer Lerche
PhD 2013
Diploma 2008

Now: Thermo Scientific, Berlin, Germany

Dr. Stephanie Werner
PhD 2013
Diploma 2008

Now: Group leader, Julius-Kühn-Institute, Quedlinburg, Germany

Dr. Alina Mosblech
PhD 2010
Diploma 2006

Now: Research Scientist, Evotec, Göttingen, Germany

Dr. Till Ischebeck
PhD 2008

Now: Professor for Plant Biotechnology, University of Münster, Germany

Dr. Sabine König
PhD 2008

Now: Centre for Biological Signalling Studies (bioss), Albert-Ludwigs-University Freiburg, Germany
Former Diploma and MA students
Marie Lebescond, Master 2022
Vera Wagner, Master 2022
Juliane Zwoch, Master 2022
Georg Steinert, Master 2022
Benita Schmitz, Master 2021
Johanna Uhlenberg, Master 2020
Johanna Nordmeier, Master 2020
Monique Matzner, Master 2019
Alicia Toto Nyenguesso, Master 2019
Lennart Schwalgun, Master 2019
Jonas Kessel, Master 2018
Mara Riechmann, Master 2018
Larissa Launhardt, Master 2017
Lisa-Marie Helbig, Master 2017
Nele Stroscher, Master 2017
Franziska Daamen, Master 2017
Teresa Fritsch, Master 2016
Melanie Fischer, Master 2014
Babette Pinkwart, Master 2014
Wilhelm Menzel, Master 2013
Sophie Nahrstedt, Master 2013
Anna Müller, Master 2012
Jessica Lorenz, Master 2012
Katharina Gerth, Master 2012
Anette Mähs, Diploma 2010
Franziska Hempel, Diploma 2009
Linh Hai Vu, Diploma 2009
Jennifer Lerche, Diploma 2008
Stephanie Werner, Diploma 2008
Xu Jin, Diploma 2008
Christian Löfke, Diploma 2007
Nicolas Rasche, Diploma 2007
Alina Mosblech, Diploma 2006
This webpage was created with the MAGIC template provided by the MLU.
All contact data are presented to enable professional contacts and facilitate scientific cooperations. All individuals listed on this website habe agreed by their written signature to have their personal data (images, email addresses) published. Every individual had the explicit choice to object to the publication of their data.
The information on this page is current as of June 2019.
---
---