Milton T. Stubbs
Milton T. Stubbs II, B.Sc.(Dunelm), D.Phil.(Oxon)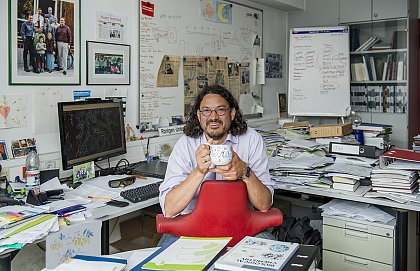 Mein Schreibtisch... (Unternehmen Region, 2015 (2), pp. 48-49, see www.bmbf.de/pub/Unternehmen_Region_2_2015.pdf).\break
Photo courtesy Arvid Rostek
Here's a little bit about me:
1962
Born in New York, USA
1969
Moved to London, England, UK
1980-
1983
B.Sc.(Hons.) in Physics at the University of Durham , England
1983-
1986
D.Phil. at the Laboratory of Molecular Biophysics , University of Oxford, England under the supervision of Professor Sir David Phillips (Oxford) and Professor Andrew Miller (Edinburgh, Scotland)
"Structural studies of certain viruses" - small angle scattering from FMDV (foot and mouth disease virus), Sindbis virus and influenza
1987-
1991
Postdoc, Max-Planck-Institut für Biochemie , Martinsried in the group of Prof. Dr. Robert Huber
1992-
1993
Högskolelektor, Karolinska Institutet , Stockholm in the group of Prof. Dr. Rudi Ladenstein
1993-
1996
Senior Postdoc, Max-Planck-Institut für Biochemie, Martinsried, funded by AKZO Nobel, Oss, Netherlands
1996-
2002
Head of X-ray Crystallography, Institute for Pharmaceutical Chemistry at the Philipps-Universität Marburg in the group of Professor Gerhard Klebe
Since 2002
Professor for Physical Biotechnology, Martin-Luther-Universität Halle-Wittenberg
2010
Sabbatical in Cryo Electron Microscopy (CryoEM), Lawrence Berkeley Laboratory, California, USA in the group of Robert M. Glaeser
Email
List of Publications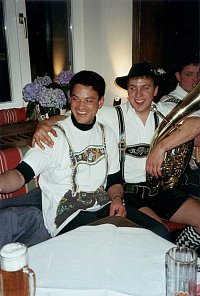 Hi! That's me on the left at the Industrial Crystallographers Meeting in Murnau in 2000.
---
---