Cyclophilins
Cyclophilins form one of the three PPIase families. The most abundant member of the cyclophilin family in humans is the prototypic cytoplasmic CypA. CypA was the first PPIase discovered by Fischer et al. in 1984. In humans, eighteen cyclophilin isoenzymes of different molecular masses have been described at present.
Human CypB mainly differs from CypA by a N-terminal signal sequence that directs the protein to the ER. Human CypD is targeted to the mitochondrial matrix. These prototypic cyclophilins consist only of one functional domain, the cyclophilin domain of about 160 amino acids.
Beside these cyclophilins, there are multidomain proteins formed by the cyclophilin domain and additional regulatory or signaling modules.
The cyclophilin domains share a three-dimensional structure characterized by an eight-stranded antiparallel barrel capped by helices. The enzymatic parameters of prototypic cyclophilins display high catalytic power as defined by catalytic efficiencies in the diffusion controlled range.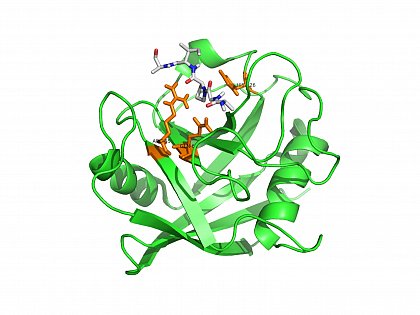 Crystal structure of human cyclophilin A in complex with a substrate peptide. (PDB ID:1FGL, CypA/VHAGPIAPGQNLER here shown: AGPIA) orange: Arg55, Gln63, His126 in the PPIase active site of CypA. Zhao et al. (1997) Structure 5: 139-146
There are several different molecular mechanism of cyclophilin catalysis proposed. The decrease the rotational barrier for the cis/trans isomerization may for example result from hydrophobic interactions within the active site or from the formation of a hydrogen bond in the enzyme-bound transition state involving the guanidine group of an active site arginine and the imide nitrogen atom of the substrate prolyl bond.
Many different proteins can functionally interact with the different cyclophilin isoenzymes. Cyclophilins have been found to be involved in several physiological and pathophysiological processes. For example, CypA is involved in HIV and HCV infection, CypB is involved in collagen fibril formation and CypD in the formation of the mitochondrial permeability transition pore. Formation of a complex between CypA and its inhibitor cyclosporin A (CsA) mediates clinical immunosuppression important for prevention of organ rejection in transplantation.
Some cyclophilin isoenzymes can move from the interior to the exterior of cells. In the extracellular space, the cyclophilins are implied in the control of cell-cell communication. They elicit a variety of intracellular signaling cascades involved in inflammatory processes. Thus, the extracellular portion of cyclophilins probably plays an important role in human diseases associated with acute or chronic inflammation like rheumatoid arthritis, sepsis, asthma and cardiovascular diseases.
---
---