Parvulins
Parvulins represent a family of PPIases which is unrelated in its primary structure to cyclophilins and FKBPs. The family was named after its first member discovered in Escherichia coli in 1994 which is very small. Parvulins occur as either small globular proteins of about 100 amino acid residues or larger structures where other domains complement one or two parvulin domains. The parvulin fold is characterized by a four-stranded antiparallel β sheet surrounded by four α helices. According to their substrate specificities parvulins divide into two subgroups, the phospho-(Ser/Thr)-Pro-specific and the nonspecific group. Especially the catalytic efficiencies of the phospho-(Ser/Thr)-Pro-specific parvulins tend to be very high.
The most prominent member of phospho-(Ser/Thr)-Pro-specific parvulins is human Pin1. It binds to and catalyses cis/trans isomers of a multitude of phosphoprotein substrates thereby influencing the phosphorylation-mediated signaling. The specificity of the Pin1-type parvulins is mediated by the interaction of the substrate phosphate with a cluster of basic amino acid side chains in the PPIase active site.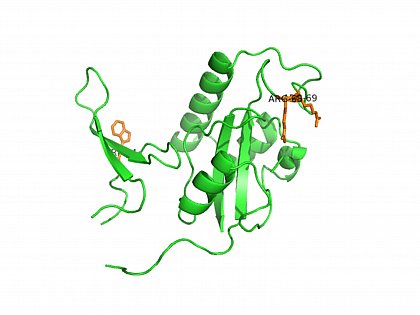 Crystal structure of Pin1. (PDB ID:1PIN,) orange: W34 in the WW Domain and Arg68, Arg69 in the active site of the PPIase Domain of Pin1. Ranganathan, R., et al. (1997) Cell 89: 875-886
Pin1 and its orthologs contain a conserved type IV WW domain that interacts with phospho-(Ser/Thr)-Pro moieties. Often, the Pin1 WW domain occurs to mediate the interaction of Pin1 with its substrate proteins.
Pin1 was initially described as a regulator of mitosis. Later on it appeared that Pin1 catalysis controls enzyme activities, protein stability, protein-protein interactions, dephosphorylation and subcellular localization of phosphorylated proteins involved in a variety of cellular processes including transcription, cell proliferation, cell differentiation and apoptosis. Generally, the biological consequences of Pin1 catalysis depend on the nature of its protein substrate.
Members of the parvulin subgroup characterized by rather unspecific substrate recognition have been found in both, bacteria and eukaryotes. They lack the basic active site residues typical for phospho-(Ser/Thr)-Pro-specific parvulins. Par14, the second parvulin in humans beside Pin1, is related to this parvulin subgroup and lacks a WW domain. Also the eponymous member of the parvulin family E.coli Par10 consists only of the parvulin-type PPIase domain.
---
---