---

TrypCo®
TrypCo® Technology
Antibody-drug conjugates (ADCs) are one of the fastest growing classes of therapeutic agents for the treatment of cancer. All approved as well as the majority of clinically evaluated ADCs are generated by conjugation strategies that randomly address natural occurring reactive groups what leads to heterogeneous product mixtures affecting critical parameters like efficacy, pharmacokinetic and safety profile of an ADC. The site-specific conjugation of the payload to the antibody plays a crucial part in the design of next-generation antibody-drug conjugates (ADCs) to overcome drawbacks and limitations of conventional ADCs. In this regard, we developed TrypCo® technology, a versatile and robust enzyme-based conjugation platform enabling efficient N- or C-terminal modification of basically any protein with a virtually unlimited variety of functionalities like fluorescent probes, toxins, polymers, click handles or even recombinant proteins. TrypCo® features a fast and efficient one-step labeling procedure under mild reaction conditions without the need of co-factors and special agents. As a proof of concept, we generated a homogeneous DAR2 ADC based on Trastuzumab, functionalized with maytansinoide (DM1), as it could be found for Kadcyla®. The positive results, obtained during characterization and comparison of the TrypCo®-generated ADC to the originator, encouraged us to exploit the full potential of the TrypCo®technology. Based on TrypCo®Zymes with individual recognition sequences TrypCo® enables the orthogonal and site-specific modification of antibodies to establish bispecific and multi-drug ADCs.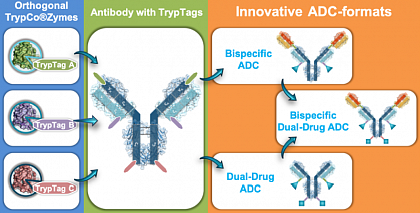 Orthogonal modification strategy by using a set of TrypCoZymes
ego.-Gründungstransfer Project: "TrypCo – Enzymatic platform technology for the development of innovative biopharmaceuticals"
Within the scope of a project funded by the State of Saxony-Anhalt and the European Regional Development Fund (ERDF) of the European Union via the ego.-Gründungstransfer program, the TrypCo technology for the production of orthogonally modified antibody-drug conjugates is to be validated. The aim is to generate bispecific as well as dual-drug ADCs using the TrypCo technology and to analyze them with respect to critical parameters. In addition, the efficacy of these ADCs will be demonstrated by in vitro studies. At the end of the project the applicability of TrypCo technology for the production of these innovative ADC formats will be proven. Furthermore, business management and start-up preparation measures such as a detailed market and competitor analysis and the development of a business plan will be implemented during the project period.
Project period: 01.

03.

2020 – 28.

02.

2021

Project leader:

Prof. Dr. Frank Bordusa
Team
René Wartner, Ricardo J. Azuero, Andreas Simon and Marcus Böhme (from left to right) form the team behind the founding project TrypCo®.
The scientific development of the technology itself is primarily driven by René Wartner, Andreas Simon and Marcus Böhme. They all graduated in biochemistry/biotechnology at Martin Luther University Halle-Wittenberg and have several years of experience in the field of directed evolution, enzyme engineering and bioconjugation. They have been involved in the development of these enzymes from the beginning.
Ricardo J. Azuero joined the team in August 2020, adding his business management expertise. As a studied MBA (SEPT program; University of Leipzig) with experience in technology transfer, he is an ideal addition.
The team is scientifically advised by Prof. Frank Bordusa (Head of Naturstoffbiochemie at the Martin-Luther-University Halle-Wittenberg) being an expert in peptide chemistry and applied biocatalysis. His work and advice lay the foundation for developing the TrypCoZymes making him a valuable and indispensable academic partner.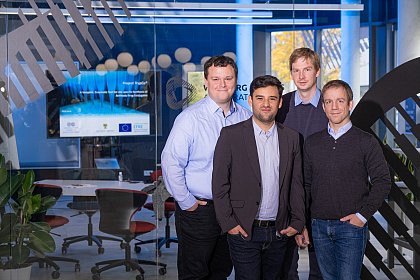 TrypCo team

funded by
Contact
Martin-Luther-Universität Halle-Wittenberg
Institut für Biochemie und Biotechnologie
Abteilung Naturstoffbiochemie
Projektgruppe TrypCo
Charles-Tanford-Proteinzentrum
Kurt-Mothes-Str. 3a
06120 Halle/Saale
---
---